For Disability Insurance Opportunities, Turn to Business Owners
News from Insurance News Net:
By Cyril Tuohy
InsuranceNewsNet
Forget the doctors, the dentists and even the lawyers. Those prospects are tapped out, old news, saturated with advisors hitting them up for sales.
Disability insurance producer coach Chris Carlson says financial advisors looking to grow their disability books of business are better off cultivating business owners.
Not only are business owners good candidates for individual disability income insurance, but they are also prospects for business overhead expense coverage, buy-sell insurance, key man insurance and multilife coverage.
"The business owner market for disability insurance has no competition," Carlson said during an April 1 webinar sponsored by the Society of Financial Service Professionals and the International Disability Insurance Society.
In one sense Carlson, principal of The D.I. Coach, is spot on. There is little or no competition from other advisors selling disability insurance to business owners in part because fewer advisors are selling the coverage than in the past.
Seen from the reverse angle, however, the disability insurance sale is neither quick nor easy, said Robert Wesley Shannon, founder of SJK Financial Pl…………… continues on Insurance News Net
---
Related News: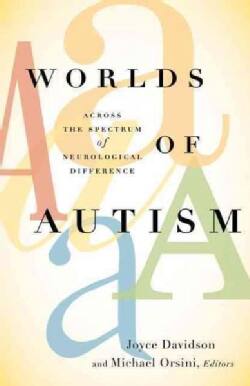 Since first being identified as a distinct psychiatric disorder in 1943, autism has been steeped in contestation and controversy. Present-day skirmishes over the potential causes of autism, how or even if it should be treated, and the place of Asperger's syndrome on the autism spectrum are the subjects of intense debate in the research community, in the media, and among those with autism and their families. Bringing together innovative work on autism by international scholars in the social sciences and humanities, Worlds of Autism boldly challenges the deficit narrative prevalent in both popular and scientific accounts of autism spectrum disorders, instead situating autism within an abilities framework that respects the complex personhood of individuals with autism. A major contribution to the emerging, interdisciplinary field of critical autism studies, this book is methodologically and conceptually broad. Its authors explore the philosophical questions raised by autism, such as how it complicates neurotypical understandings of personhood; grapple with the politics that inform autism research, treatment, and care; investigate the diagnosis of autism and the recognition of difference; and assess representations of autism and stories told by and about those with autism. From empathy, social circles, and Internet communities to biopolitics, genetics, and diagnoses, Worlds of Autism features a range of perspectives on autistic subjectivities and the politics of cognitive difference, confronting society's assumptions about those with autism and the characterization of autism as a disability. Contributors: Dana Lee Baker, Washington State U; Beatrice Bonniau, Paris Descartes U; Charlotte Brownlow, U of Southern Queensland, Australia; Kristin Bumiller, Amherst College; Brigitte Chamak, Paris Descartes U; Kristina Chew, Saint Peter's U, New Jersey; Patrick McDonagh, Concordia U, Montreal; Stuart Murray, U of Leeds; Majia Holmer Nadesan, Arizona State U; Christina Nicolaidis, Portland State U; Lindsay O'Dell, O
List Price:
Price: